22 March, 2016
Lamb & Feta Brioche Burger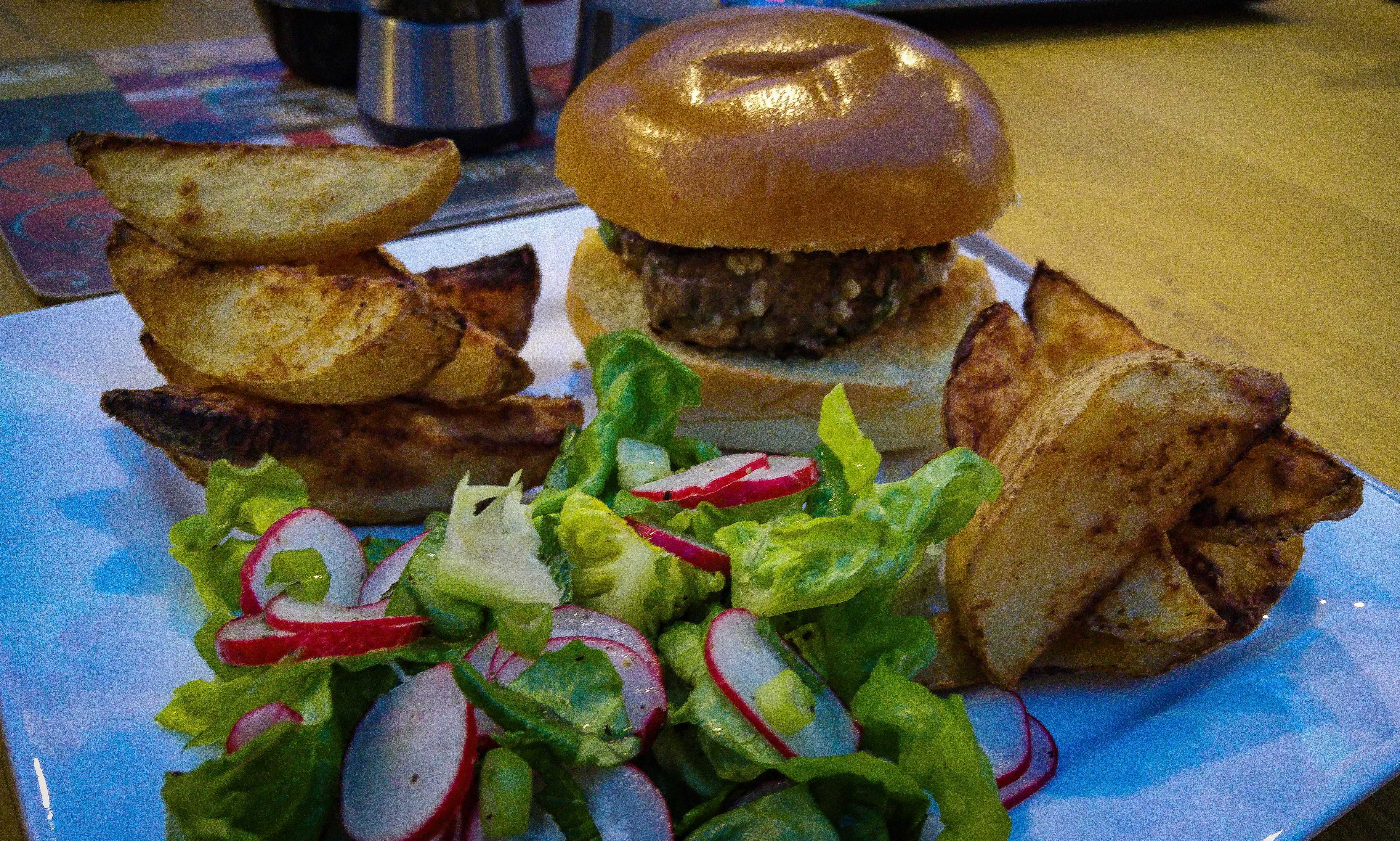 Posted in :
Uncategorised
on
by :
Pete
Lamb & Feta Brioche Burger
A cracking burger recipe adapted from my Hello Fresh Box.
Ingredients
2

Large Potato

Cut into wedges

0.5

Onion

Thinly Sliced

1

Baby Gem Lettuce

Chopped

6

Raddish

Thinly Sliced

4

Spring Onions

Chopped

2

tbsp

Fresh Mint

Chopped

250

g

Lean Lamb Mince

100

g

Feta Cheese

Crumbled (HEa)

2

Wholemeal Roll

(HEb)

2

tsp

Olive Oil

1

tsp

Chilli Powder

A few

Squirts

FryLite
Instructions
Firstly, cut the potatoes into thick wedges (6 per potato), place in a bowl with 2 tsp Olive Oil, some sea salt and the chilli powder according to how hot you like your wedges. Toss the wedges until evenly coated. Place on a tray in a pre-heated oven at 200 degrees C

Meanwhile, using a little fry-lite, cook the thinly sliced onion slowly until golden brown and translucent

In another bowl, combine 3/4 of the chopped spring onions, the crumbled feta, 3/4 of the chopped mint, the lamb mince and a little salt and plenty of pepper. Mix thoroughly with your hands and form into two burger patties.

Don't crush them like snowballs, leave slightly loose for a better eating texture. Heat a frying pan and with a few squirts of frylite, cook the burgers for about 4 minutes on each side, turning only once.

Meanwhile, mix together the sliced radish, remaining spring onion and mint and lettuce along with salt & pepper and a little fat-free dressing if you like.

Once everything is ready, toast the roll lightly under the grill (I used brioche in the photo) then assemble the burger, topped with the fried onions then serve with the dressed salad and the spicy wedges
Notes
Olive oil is 4 syns and the mince varies depending upon how lean you can get. Mine worked out at 2 syns giving 6 syns in total and 3 per serving.
Very tasty and filling too.